This page may contain affiliate links. When you click the link and make a purchase, I receive a commission. You can read more by viewing my Privacy Policy
The Child Abuse and Death of Kelsey Briggs is one of the worst cases I've ever seen. There is no doubt, someone abused this poor baby. Her parents, grandparents, and the DHS system all contributed to the abuse. There is a lot of "he said-she said" in this case as well, some of which you will have to determine the believability yourself.
At the beginning of this case, Kelsey's dad, Lance Briggs, and Lance's Mother portrayed him as a war hero and an upstanding man of the community. Further investigation revealed much of that to be untrue.
There are many "facts" that many dispute. But none of these disputes make any difference in the fact that Michael Porter, Raye Dawn Briggs, and the systemic failure of the child protective services murdered Kelsey Briggs.
The Players
I have read many court transcripts, books, and articles about this case. Some were true, some manipulated facts, and some considered plain lies. Truthfully, all the information I found could fill a good Law & Order SVU case. Only this case was in a small town in Oklahoma, not Manhattan.
From the very first, the family drew battle lines. Many people are directly affected by these events, if only on an emotional level. However, coming through the noise is a standard list of characters, which these five people show:
Kelsey Briggs (the victim)
Raye Dawn, Kelsey's mother, divorced her father before Kelsey was born. Raye Dawn had custody originally with Lance having visitation rights. Kelsey also spent time with her grandparents on both sides.
To make it less expensive in raising Kelsey and to make ends meet, Raye Dawn went on welfare and lived with her mother and father.
Raye Dawn worked jobs working with the elderly, manufacturing, and classes at Seminole State College.
In 2004, after the death of her father, Raye Dawn and Kelsey moved into their own apartment.
The precious baby, Kelsey, won "Miss Personality" at the Shawnee Baby Pageant. For a time, things appeared to be looking up for Raye Dawn and Kelsey.
Kathie Briggs
When Kelsey was born, Kathie Briggs pushed for paternity testing…not Lance. Lance did not appear to want much to do with Kelsey, other than the standard, every other weekend-type visitation. Lance didn't want custody or show up for hearings. Allegedly, Lance told others that he wanted to move on with his life. He was hoping the baby would not turn out to be his baby.
Personally, I wouldn't consider these characterizations of "loving father" and "Wonderful man". Kathie pulled out all stops to portray him as truly awesome, only to show his true colors. According to transcripts, Lance admittedly lied to authorities about his military service and this incident.
Kathie, on the other hand, appeared to see the custody agreement, or lack thereof, as affecting KATHIE's access to Kelsey, and rightly so.
Since Lance would be away, his parents went to court asking for visitation rights for the grandparents. Arrangements made with the court are that Kelsey's Mom, Raye Dawn, and Lance's Mother, Kathie Briggs, would meet at the Court-designated place, a gas station, to exchange Kelsey.
I feel that there was a serious problem with Kathie's version of Kelsey's abuse since there was a total lack of evidence. Yes, the abuse of Kelsey did happen, but the ridiculous amount of documentation and videos that Kathie shows as "abuse" was normal wear and tear on a child of that age. Bumps and bruises from playground activities.
However, I don't want to take anything away from the ACTUAL abuse that Kelsey did suffer.
Kathie Briggs has said that her precious son is not abusive and later said that Raye Dawn claimed she had lied about the abuse. Kathie testified in Court that Raye Dawn said "He had taken the keys away because she wanted to go out. She [Raye Dawn] got upset. She filed a police report and said that he had tried to choke her."
What's more, Raye Dawn tried to get the charge dropped. The officer told her she would be in trouble for falsifying a police report. Of course, this event is according to Kathie Briggs, so there's that.
Apparently, there were many incidents during the marriage. Ray Dawn filed for divorce on May 30, 2002. The divorce was final on July 31, 2002.
Kathie Briggs expected the dejected grandparents' attitude would sway the nation. Allegedly, Kathie Briggs took the meddlesome in-law concept to ridiculous proportions to include criminal actions. Kathe wants you to ignore that part. All of a sudden, you should call into question Kathie's record of actions and motives about Kelsey's mother, Raye Dawn Smith. You decide.
Lance Briggs
Do not be misled: Lance Briggs is a bad guy. He is a vicious physical abuser with tons of offenses on record. When Raye Dawn was pregnant in 2000, Lance punched her in the abdomen repeatedly, causing miscarriage.
There were many incidents that required calling the Police during their marriage. The police advised Raye Dawn on several occasions to get a protective order. Raye Dawn filed charges on one visit by the police. The Court ordered Lance to go to anger management classes. Ironically, this response happened TWICE: Once for assault on Raye Dawn, and once for assault on his later girlfriend, Marie Larsen.
According to public records, Lance threw a fit because his McDonald's meal was not super-sized and threw Raye Dawn against the wall and choked her with his arm in May 2002. What a jerk.
Witness testimony described Lance repeatedly breaking into Raye Dawn's home, stealing and destroying items, or leaving items later found in a nearby creek and field. At that time, Raye Dawn had a temporary protection order.
One time, Kathie brought back items to Raye Dawn that had been missing. However, Lance said he didn't take those items. Kinda makes you go "Hmmm." Was it a Mother and Son team of harassment? He would leave notes asking for Raye Dawn threatening her to not play games.
This is when the police arrested Lance. Don't forget the anger management classes he attended. Because those always work. And, of course, he'll "never do it again." Right.
This is classic narcissistic behavior. Many abusers react the same way after an assault on their significant other. In fact, we could also consider this sociopathic behavior. You decide. Check out my post about The Psychology of Murder. Take the Quiz and see how you rate.
In my opinion, Lance is an abusive Narcissist at a minimum.
Lance and the Army
Kelsey's Dad, Lance, also appeared to be doing well. He remarried Ashley Lytle on June 14, 2003. They moved their wedding date up to accommodate visitation dates so Kelsey could participate in the wedding and celebrations.
Court transcripts tell us that in 2003, Lance enlisted in the US Army Reserve and became active duty in September 2004. He was to receive more training then deploying to Iraq.
When Kelsey died, authorities tried to call Lance with the terrible news. They couldn't find him. Here's the weird part. Over and over again, we see reports that Lance only found out about her death when he was getting off the plane from Iraq. He and his mother were lying.
Here is the truth: Lance wasn't fresh from Iraq, but was sent to Fort Benning, Georgia, to a drug rehabilitation center. You see, he had tested positive for drugs and informed he would get a dishonorable discharge if he did not volunteer to attend the rehab center. He also allegedly physically assaulted a superior officer in Germany.
To me, this shows the level of lying the Briggs' will go. They will try anything to tug on the "heartstrings" to further the future of their agenda of revenge toward Raye Dawn Smith is ridiculous. Vengeance for the audacity of divorcing and filing charges against Lance, a domestic abuser.
In fact, it was reported that the marriage between Lance and Ashley Gober was so awful that they were in the process of divorce while this was happening. In fact, the divorce was final only ONE MONTH after the death of Kelsey.
Only a year prior to this arrest for child abuse, the police arrested Lance for another crime. He allegedly burglarized the home of a former girlfriend. At that time, he dragged the ex by her hair and tossed her a friend in the front yard.
Police records show he had a loaded gun; therefore, there is now another protective order against Lance.
It makes me wonder.
I wonder if the filing of many charges and many protective orders makes any difference before Courts consider it a "pattern of abuse and violence"? Trust me, he is no grieving, innocent father.
Raye Dawn Briggs
Prior to January 2005, there were no reports to authorities, no signs of abuse, nor were any abuse signs ever noticed by anyone close to her or her daycare!
It is with this nod to Raye Dawn's previous behavior that I am willing to spend a few paragraphs describing her situation. I do not feel her marriage to Lance, or anything else is an excuse for what happened to her daughter. However, I hope to give you readers some basic information only to further show that Lance wasn't the big "hero".
Lance and Raye Dawn had a tumultuous marriage. Lance's mother, Kathie Briggs, portrays Lance as a calm, wonderful upstanding man. Don't be misled. Lance was an abusive person, both physically and mentally. And it wasn't only to his wife, Raye Dawn, though she did get the brunt of it.
Court transcripts report that Raye Dawn Briggs filed a police report in May 2001. She alleged that her husband, Lance Briggs, "slammed her against a wall and placed his forearm against her throat." According to Raye Dawn, this incident was due to him not receiving the super-size of his McDonald's meal. At that time, the police officer did see evidence of injuries on her neck and collarbone.
Ironically, the divorce papers said that Raye Dawn is not now pregnant, although we now know differently since Raye Dawn gave birth to Kelsey 5 months later (December 28, 2002).
According to reports, Lance was perfectly happy not being in Kelsey's life, and not paying child support. That is, until Lance's mother, Kathie, gets involved.
Kathie (on Lance's behalf, of course) asked for a DNA test to see if Lance was the father. In April 2003, the results were 99.99 percent chance, according to court records.
Michael Porter
On October 15, 2004, Raye Dawn met Mike Porter at a Shawnee bar, Hot Rods. Mike was the President of his family's magnet plant in Meeker. They began dating. I really have nothing more to say about this scumbag. Court transcripts state that he sexually abused Kelsey Briggs to the point of a torn anus and genitalia. I refuse to give him any more direct whitespace other than to say he is guilty of murder and child abuse and is currently serving time.
Timeline Leading up to the Death of Kelsey Briggs
First, a caveat. There are so many varying reports of what went down during this time, it's impossible to know what's true. In fact, even Judge Craig Kay, the Judge in the custody case, was unable to determine who exactly was abusing Kelsey. The following are the "facts" I have concluded.
Prior to 2005, Kelsey Briggs appeared to be having a wonderful childhood. She was happy, healthy, and pain-free.
Jan 8, 2005
Broken Collarbone
Jan. 9, 2005
Kathie finds a number of all different colors of bruises on her face, arms, back, and legs.
On January 10, 2005, Kelsey went to the hospital with a broken collarbone. The medical team also found bruises on Kelsey's butt, back, and thighs. Rae Dawn explained that the injuries were due to the fact Kelsey fell from her crib. Kelsey went back home with her mother.
January 14, 2005
Lance and his wife took Kelsey to the emergency room with the side of her face and butt heavily bruised.
January 17, 2005
A report was taken by OKDHS, twice in one day, and after much to do, Raye Dawn left Kelsey with Gayla Smith overnight.
Jan. 24, 2005
The Judge awarded custody of Kelsey to her paternal grandmother, Kathie Briggs. Even more than that, Raye Dawn was given an order to take classes for parenting and anger management, as well as an alcohol assessment. The OKDHS filed official charges and began "closely observing" Raye Dawn and Kelsey for child abuse.
Feb 3, 2005
Raye Dawn admits to spanking Kelsey on the diaper.
Feb 4, 2005
The Judge leaves Kelsey Briggs in the custody of the Briggs family. He allows visitation for Raye Dawn. Two officers state that they did not believe that it was Child Abuse. It was normal child playground bruises.
February 10, 2005
Raye Dawn's conflicting stories, denial of seeing the bruises, and no explanation, OKDHS confirms abuse against Raye Dawn Smith.
February 11, 2005
Raye Dawn receives supervised visitation with Kelsey each weekend and one day during the week.
March 11, 2005
OKDHS reviewed Raye Dawn Smith's custody and determined that she could see Kelsey unsupervised with Kelsey not to be anywhere Michael Porter was. Custody of Kelsey Briggs was continued with Kathie Briggs.
March 31, 2005
Raye Dawn contacts OKDHS about the hair loss.
It should be noted that from March 11 through April there is a lot of back and forth between Kathie Briggs and the OKDHS, Lance Briggs and the OKDHS, and Raye Dawn and the OKDHS. Everyone is reporting bruises that were allegedly caused by everyone else.
April 5, 2005
Lance spoke with OKDHS and indicated his concern about Kelsey's bruises. He alleged he only flew in that weekend. (Which was a lie, by the way). He also indicated he was not a fan of the supervised visitation with Raye Dawn.
Sometime in April, Kelsey again went to the emergency room. At that time, the Medical staff said she had two broken legs, considered as spiral fractures, in different healing stages. The Staff considered these injuries as child abuse. This fact became apparent by the autopsy after Kelsey's death.
When Kelsey Briggs became a ward of the state at that time, the worker asked her if someone had hurt Kelsey. Kelsey said "Yes." The worker further asked who had hurt her, but Kelsey would not say anything. Police and staff asked Kelsey the meaning of "hurt." Bless her little heart, Kelsey "nodded her head "yes" and pointed to her two broken legs, now in tiny casts."
According to Kathie, these injuries happened while Kelsey was on a non-supervised visit with her mother, Rae Dawn. Rae Dawn said it was when she was with her paternal grandmother.
He said, she said.
At this point, Kelsey Briggs is removed from Raye Dawn's house and placed in her maternal grandmother's care, Gayla Smith.
The Court gave Raye Dawn visitation rights, unsupervised. It has been reported that Raye Dawn completed all the required courses and evaluations to regain custody.
On April 18, Michael Lee Porter and Raye Dawn Smith marry.
At this point, there was a lot of "he said-she said" between Raye Dawn, Lance, and his Mother, Kathie. This issue caused a lot of confusion.
There was a period of time that Kelsey had worse problems. She started losing her hair and stopped eating. I hear that she lost her sparkle.
Kelsey Briggs also started to show odd behavior such as hurting herself, biting, counting bruises, scratching. She started picking her fingernails and toenails. In fact, one toenail was missing when she died.
OKDHS documented all the behavior issues and loss of hair. It is unclear why Kelsey seemed to act differently when Kathie Briggs was around. It has also been suggested that Kelsey tended to be lethargic and asleep during most visits.
What is clear is that being in foster care and back and forth among others was starting to get to Kelsey.
After this case was resolved, Judge Craig Key wrote a book about the systemic problems in the case. He said, "Although she was in protective custody, it was apparent that Kelsey wasn't adjusting to being in the Briggs home. A red flag was raised for me, as a judge, when DHS told me Kelsey's hair began falling out in clumps while in the care of Kathie Briggs.
Kelsey's hair was falling out to the point that she had a bald spot on the back of her head the size of a baseball. She began self-mutilating by biting her arms, and as clearly stated in Kelsey's obituary submitted by the Briggs, she was apparently biting the Briggs family as well." The book is called …
May 3
Kelsey Briggs went to the hospital with two broken legs. The OKDHS took back custody of Kelsey. OKDHS then gave custody to her maternal grandmother, Gayle Smith.
Judge Craig Smith indicated that he was unsure who abused Kelsey Briggs. The judge returns Kelsey to her mother, against OKDHS recommendation. Later, we would learn that Michael Porter sexually abused Kelsey to the extent that she had ripped genitalia and anus.
Since the judge couldn't determine the abuser, he returned Kelsey to her mother with OKDHS weekly visits.
Porter's 7-year-old daughter witnessed Kelsey's abuse. According to transcripts, she said that her father abused Kelsey to the point that Kelsey vomited. The witness said Michael was nice to Kelsey when others were around.
June 2005
Kathie gave up her right to supervised visitation. According to reports, Kathie didn't like what OKDHS was saying about her. Kathie didn't see Kelsey Briggs again until after August 19.
August 19
A car accident further hurt Kelsey two months after returning to her mother.
Less than two months later, Kelsey Briggs died after Michael Porter punched her in the stomach.
September 2005
There was a hearing scheduled for September 2005 that none of the Briggs family attended.
The Death of Kelsey Briggs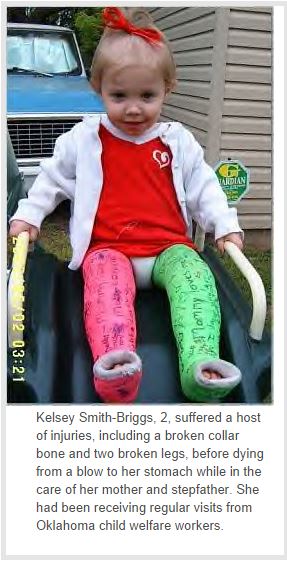 Four months after Kelsey's return to her mother, in October 2005, she died.
On October 11, 2005, Raye Dawn went to pick up Michael Porter's 7-year-old daughter from school. Kelsey was sleeping when Raye Dawn left, dressed only in a T-Shirt because Raye Dawn said they didn't have any pull-ups.
Unfortunately, when Raye Dawn arrived home, Kelsey was in an ambulance wearing a pull-up, which Raye Dawn found odd. She asked Porter why Kelsey was in a pull-up. Michael Porter told her that "he didn't want people thinking "things" about him."
Kelsey Briggs died in the ambulance. Kelsey's death was ruled a homicide due to blunt force trauma to the stomach area. The medical examiner said that someone punched or kicked the baby so hard in the stomach that it killed her. The indication was that Kelsey had been forcefully sexually assaulted, repeatedly.
OKDHS filed paperwork between June and October that indicated the visits to the home by DHS had "favorable results" with no sign of abuse apparent.
I find it appalling that the last OKDHS visit was the day Kelsey Briggs died, only a few hours before. At that time, Kelsey was with Michael Porter. It has been proven that Michael Porter delivered the fatal kick or punch. The blow was so hard that it killed her. Kelsey's mother, Raye Dawn, was not in the home at that time.
There were a few rumors that suggested bad blood between the families. The rumors alleged that Raye Dawn was totally innocent and that the reports were "trumped-up" charges. I encourage you to make up your own mind when researching information about this case. In my opinion, there were terrible injustices delivered to Kelsey Briggs and surrounding her death. We, as human beings and as a society, failed this little girl.
In the end, the facts speak for themselves.
Kelsey died on October 11, 2005. She was at her mother and step-father's home in Meeker, Oklahoma. The facts ruled by the medical examiner were that this case was a homicide from blunt force trauma to the abdomen. During this time, a Judge AND the OKDHS supervised Kelsey's care. So much for supervision.
Raye Dawn claims to know nothing about the abuse, which I find difficult to believe. She did know that Kelsey was unharmed until Michael Porter came into their lives.
I honestly feel that a mother that paid more attention would have found the actions of Michael Porter and Kelsey to be troubling. That same mother would have done more to find the truth and protect her child.
There is no doubt in my mind who the abusers were. I blame Michael Porter, the coward. Michael Porter raped and murdered Kelsey. And I blame her mother, who did not protect her.
The Charges
In January 2007, the State of Oklahoma charged Michael Lee Porter with sexual assault and first-degree murder of Kelsey Briggs. As a side note, the investigators also found child pornography on Mr. Porter's computer.
At that time, Raye Dawn Smith was scheduled to testify against her husband. Raye Dawn was also under investigation for the murder of Kelsey. The charges against Raye Dawn Smith consisted of enabling child abuse of Kelsey Briggs.
Prior to the trial, the defense had Kelsey's body exhumed for a second autopsy by a private Indiana physician. Again, it was concluded that Kelsey's injuries consisted of sexual assault.
The Forensic Pathology could not determine whether the sexual assault or the blow to the stomach was the actual cause of death.
The charges remained and the official cause of death was determined based on the first autopsy, blunt force trauma to the abdomen.
Both Michael Porter and Raye Dawn Briggs were charged with the death of Kelsey Briggs.
The Sentences
Michael Porter
Although Michael Porter was charged with Sexual Assault and First Degree Murder, due to a plea agreement, he was found guilty of a lesser charge: enabling child abuse. Michael Porter was sentenced to 30 years in February, 2007. I believe this means no chance for parole for 25 years. This means he did not receive a death penalty conviction, nor is he required to register as a sex-offender.
Personally, I think it is sad that Michael Porter received the same sentence as Raye Dawn. I truly believe he should have received a longer and more painful sentence.
Raye Dawn Briggs
The charges for Raye Dawn Briggs depend on who you ask. I can tell you the final charges, but the beginning charges range from felony child neglect, enabling child abuse, felony child abuse.
During the trial, Michael Porter testified that he witnessed Raye Dawn abusing Kelsey several times. He listed three separate incidents, one of which she allegedly punched Kelsey in the stomach.
Yeah, well, this is he said/she said. I really don't care who is right on this. Bottom line is that two people abused this child either physically or by neglect and she is dead. They both should be punished regardless of which one actually did the physical damage.
Is that fair of me? Probably not. It seems fairness goes away when I'm talking about the abuse of a child. It's possible that Raye Dawn hated Kathie Briggs so badly that she couldn't see "the forest for the trees" in Michael's case. I still think she should have received the charges and sentences she did.
Raye Dawn was convicted of enabling child abuse and sentenced to 27 years in prison, on July 18, 2007. The Appellate Court denied her request for appeal. Again, her sentence is for 25 years before she is eligible for parole.
The Aftermath
Oh the things that happened AFTER the trials and sentences are still appalling to me. First, Kathie and Lance (I'm sure done by Kathie) Briggs filed a $15 million lawsuit for allowing the abuse and death of Kelsey Briggs. While that may be a good thing that OKDHS pays, I, personally, am not sure that the money should go to Kathie and Lance.
The way it was set up was that if the lawsuit was a success, half of the settlement would have to go to Raye Dawn UNLESS Raye Dawn was convicted of anything regarding the abuse or death of Kelsey. In that case, Kathie and Lance got to keep it all. It makes me wonder if this was the reason for the constant surveillance and reporting of abuse by Kathie/Lance. The embellishments or outright lies appear to be for revenge.
In 2009, the lawsuit was settled for $525,000, and a private agency representing the OKDHS paid $100,000. Eastern Oklahoma Youth Services was the private agency who had a worker assigned to Kelsey and was present at the last home visit. Forty percent (40%), or $250,000 plus expenses of $29,902 went to attorneys. Raye Dawn did ask for a share of the remaining $345,100. However, since she was convicted, she was denied her "share". This whole settlement makes me sick.
Kathie also set up a "non-profit" for Kelsey, in an attempt to pay some of the expenses. However, the Attorney General sent a "cease and desist" order for misuse of funds. Kathie attempted to misdirect this fact from her supporters. I'm told that it didn't work well. I've also read that Kathie and Lance were able to purchase lots of possessions and while still unemployed.
Judge Craig Key
Judge Key did not win re-election, some say due to Kathie Briggs' one-woman destruction show. He went on to write a book about the case that I have referred to previously, A Deadly Game of Tug of War: The Kelsey Smith-Briggs Story. The story was a big self-serving in that he basically defended his position in giving Kelsey back to her mother, Raye Dawn Briggs. The book slightly tilted toward Raye Dawn and against Kathie Briggs, but the facts in the case stood out anyway.
Judge Key went back to practicing law in a private practice after his failure to be re-elected. Some have said he wasn't a very good attorney. Is this bias? Perhaps. In any case, trouble did follow Judge Key.
In a bit of irony, Judge Craig Key was indicted in 2012 for 24 counts of embezzlement, delivery of a forged note, conspiracy to commit larceny of domestic animals, and larceny of domestic animals. (Stealing a cattle trailer full of cattle). Oh! And Harboring a fugitive (was it the cattle? But I digress).
According to the Oklahoman, "Guilty," he said to each count of embezzlement, delivery of a forged note and the other offenses."
He further gave a couple of sentences about what he did, but when given the opportunity to say why, he stayed silent. Craig Key was sentenced to five years in prison and 5 year probation. He was also ordered to pay $527,734 in restitution, according to the plea deal.
"He owes thousands of dollars more in court costs and victim compensation assessments."
I cannot honestly state which of all these statements are true, except the ones I give sources for. Even then, you have to consider the source, I think. There is so much misinformation and judgment given by others that it's hard to keep up.
What I DO know is there are so many various stories out about who is responsible for Kelsey's death. Some blame Raye Dawn as well (including me), some think Raye Dawn is totally innocent, some believe Kathie should have received some punishment (including me), and Lance as well (me too!).
Every single day kids are dying because of being abused. I think sometimes we get caught up in the details of the trial, the people, the charges that we forget about the victim. In the cases I review and write about, I try to always also remember the families of the victims. Not this case.
What Happened next
I feel there was so much blame to go around in this family that they don't deserve peace. Any of them. But Kelsey does.
And Kelsey Briggs should be remembered as the center of this case, not the Briggs, or Raye Dawn, or Porter.
Just think, Kelsey would be 17 years old, getting ready for her 18th birthday. There would have been proms to consider and boyfriends to choose and getting ready for graduating. Sadly, this will never be as Kelsey is perpetually 3 years old in our minds. But let's send positive thoughts and prayers that she is at peace.
I find it horrendous that a total of 10 child abuse reports were logged with the OKDHS about Kelsey over a 3 year period…her entire life. TEN reports, yet she still died. The systemic abuse really frightens me that this could happen again. However, there is now "Kelsey's Law" that hopefully made a difference. That's little justice, but at least it's something.
If you would like a little meditation to help rid the negative energy from reading about this case, our Podcast, True Crime and Woo, and our website True Crime and Woo has meditations, aromatherapy, crystal reiki, and other methods that may help you.
One last note about the investigation of this case. In March 2006, justice was served by the Oklahoma State Legislature in passing the "Kelsey Smith-Briggs Child Protection Reform Act." This act was developed to reform how the Oklahoma Department of Human Services, and the court system, handle child abuse cases.
Kelsey's Law went into effect on November 1, 2006. The state law boosts the power of the Department of Human Services (DHS), as well as other state agencies and judges to intervene on behalf of children in abusive homes.
Kelsey's Law further strengthens the education of Court-Appointed Child Advocates (CASAs) to meet national training standards. What's more: Kelsey's Law holds judges accountable for their rulings in child-placement cases as well.
If you or someone you know needs help, the National Child Abuse Hotline is open 24-hours a day with resources to help in every child abuse situation. All calls are confidential. They can be reached at:
1-800-4-A-CHILD (1-800-422-4453) or https://www.childhelp.org/childhelp-hotline/
Victims or survivors can also receive support from the National Domestic Violence Hotline 24/7. Call 1-800-799-7233 or 1-800-787-3224 for TTY. If you cannot speak safely, log in to the thehotline.org website or text LOVEIS to 22522 or https://www.thehotline.org/
If you're looking for some small way to make a difference, the Stop Abuse Campaign is The Stop Abuse Campaign prevents Adverse Childhood Experiences (ACE)s through public education and public policy. They need your help. Their website is full of good information. Visit them at https://stopabusecampaign.org/ or Facebook at https://www.facebook.com/abusestoppers/
Join the discussion! Join our Facebook group at True Crime Diaries Discussion or our True Crime and Woo facebook group.
Stay connected with us by joining our VIP list.
All photos, images, quotes, and video clips are used for fair use commentary, criticism, and educational purposes. See Hosseinzadeh v. Klein, 276 F.Supp.3d 34 (S.D.N.Y. 2017) Equals Three, LLC v. Jukin Media, Inc., 139 F. Supp. 3d 1094 (C.D. Cal. 2015).
Sources: